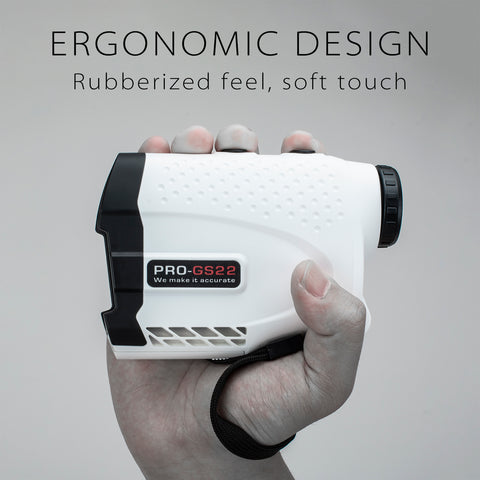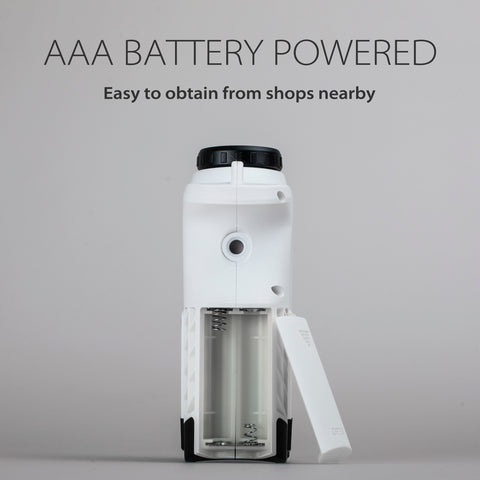 The most cost-effective rangefinder you can find on the market to provide you everything you need for golfing, hunting, bowhunting and other professional application with reliable product quality and after-sales service

Provide high-precision distance measurement. Integrates latest functions such as continuous range readings, ARC (angle range compensation), Pin-Seeking and Flagpole-Locking Vibration (Vibrate when the flagpole is locked) and Speed Measuring

Measuring range from 5 to 650 yards, with +/- 1m high accuracy and 6x magnification. The flagpole locking function supports a distance up to 150 yards (Flagpole only) and 250 yards (Aim the flag when it's unfolded). Our rangefinder can meet most user's needs

A fully multi-coated optics lens effectively reduces reflected light and increases the transmission of light giving you a brighter clear image. The diopter is adjustable for precise focus on display

We Gogogo Sport Vpro are confident with our product and will provide a 1-year warranty. If you meet any quality issue with our product, we'll directly send a new one or a full refund is optional.
        Specifications
        Magnification: 6X
        Field of view: 7°
        Objective lens: 25mm
        Eyepiece lens: 16mm
        Exit pupil diameter: 3.9mm
        Laser Type: 905nm
        Lens Coatings: Fully Multi-Coated (FMC)
        Battery: AAA Battery (Not Included)
        Measuring Time: 0.5-1 sec
        Distance Measuring Accuracy: ±1m
        Angle Measure Range: ±45°
        Slope Measure Range: ±20°
        Pinseeker Range:5Y-150Y/5-170Y
        Measurement Distance Range:5-650Y/5-900Y
        Measurement Speed Range:0-300km/h
        Dimensions:106*40*72mm
        Net Weight: 184g
        Low Battery Indicator: Yes
        FlagPole-lock: Yes
        Scan Mode: Yes
        Water Resistant: Yes
Customer Reviews
10/13/2020
Craig S.
United States
Works just as advertised!
Very light weight and registers the target in a matter of a second or two. Very accurate and I am pleased with the features. Excellent product and the customer service was outstanding. Thanks
11/05/2020
GOGOGO SPORT STORE
Thanks for your support. Have a good time!
10/03/2020
Jeff L.
United States
Extreme value!
This device performs flawlessly and was consistently within 1-1.5 yards of my playing partner's much more expensive device. It would be nice if a certificate of calibration was included. Overall very happy with the GS24 with slope!
09/26/2020
Lee f.
United States
I agree with the other positive posts
Used the gogogo once. The optics/telescope, is clear, easy to read. A 125 yd marker showed 122.5, (not bad). Uses 2 AAA batts is small and light. doesn't vibrate for flagpoles, but easily picks up greens, trees, sand traps, etc. The case is basic. May/May not work well for years; but for $100, if lost or stolen, I'd buy another. Accuracy is fine for me, it's awesome; a steal, highly recommended.
09/25/2020
HAROLD N.
United States
wonderful range finder
works great ,love the price
08/23/2020
TexasTom
United States
Amazing Range Finder!
I took a chance on purchasing this sub $100 range finder after losing my old one on a golf outing. After checking out several and looking at online reviews, I settled on the GoGoGo Laser Rangefinder. I have been blown away by its performance! I have found it to be very accurate and extremely easy to use. Push the "on" button once and the target comes up, put the crosshairs on the flag until the device vibrates and then up comes the distance. But it doesn't stop there. On the display at the bottom of the viewfinder is the yardage after taking in consideration the slope between you and the pin. I recently played at Soldier Hollow (gold) in Utah where the terrain necessitates the use of a range finder with slope adjustment. It was amazing to get such an accurate reading from such an inexpensive rangefinder. I highly recommend this product for golfers!