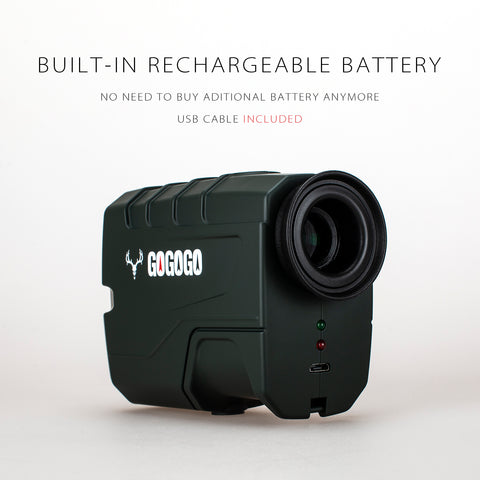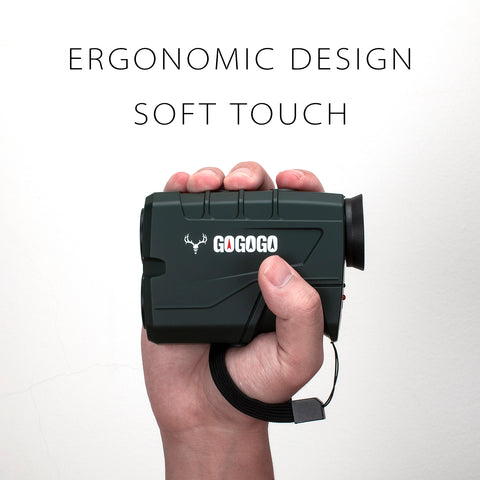 3 Mode to Choose
Distance Measure & Normal Scan Mode
Golf Mode
Speed Mode
Normal Scan Mode is for distance measurements when you hold down the power button, the data on the LCD screen will change as you move. The second Golf mode will show us the angle and slope-adjusted distance, real distance between golfer and flag; Last one is Speed mode, Press "M" Button to change measure mode, AND Long Press  "M" button can switch meter and yard.
Magnification: 6X
Field of view: 7 degree
Objective Lens: 25mm
Eyepiece lens: 16mm
Exit Pupil Diameter: 3.9mm
Laser Type: 905nm
Lens Coatings: Fully Multi-Coated (FMC)
Battery: Built-in Rechargeable Lithium-ion 3.7V 900mAh
Measuring Time: 0.5-1 sec
Distance Measure Accuracy: ±1M
Angle Measure Range: ±45°
Slope Measure Range: ±20°
Pinseeker Range:5Y-150Y/170Y
Measurement Distance Range:5-650Y1200Y
Measurement Speed Range:0-300km/h
Dimensions:106*40*72mm
Net Weight: 184g
Low Battery Indicator: Yes
Flag-lock: Yes
Scan Mode: Yes
Water Resistant: Yes
Note
1. In order to protect the coating of the lens, do not use your fingers to touch the surface.
2. Laser rangefinder has been precisely calibrated by instruments, please don't disassemble by yourself.please send the device back to the dealer for repairing when need.
3. If lens becomes dirty, please wipe gently with cleaning cloth, do not use other objects to wipe it.
4. Avoid collision or heavyweight when carrying or using it, especially keep away from baking or corrosion.
5. Keep the product away from moisture during storage. Please keep it in a dry, cool, and well-ventilated place, and avoid direct sunlight, dust, and temperature shock.
Customer Reviews
06/01/2020
Cummins G.
United States
Seems like a decent value.
Has performed well so far. Seems accurate at distances I can measure with my Nikon 440, and according to the ballistics of my weapons it is accurate as measured by bullet impact.
03/13/2020
elisa
United States
Great deal!
I bought this for my husband who is an avid hunter and not the most technologically inclined. He loves it! He thinks of it as his best kept hunting secret (well, except for the honey hole, which I have learned you never disclose). He loves the accuracy of this product! I would highly recommend due to his ease of use and its portability.
02/15/2020
Dan
United States
Worth the price
I compared this to a Bushnell that I was going to buy. Bushnell $200, this was $79. The Bushnell uses a 9 volt battery, this is rechargeable. The Bushnell is good for 600yrds, this is 1200yrds. While using this product, I found that switching between modes was very easy, the LED was very easy to read, the crosshair was very easy to line up, and very easy to see. I have a 100yrd tape measure, so I measured the accuracy, it was about 2inches. Overall I was very happy with the purchase, and it's well worth the price.
02/12/2020
Brian M.
United States
Issue but resolved quickly
This review has been swapped to a 5 star. My range finder only went out to 600 yards, not the 1200 advertised. The company responded to my email and sent a replacement that works great. i appreciate the quick fix. I'm very happy and will recommend this product to others.The range finder is super easy to use, i use it for shooting so range is the only function i have used. simply point and click. I read a few negative reviews of people complaining about holding the range finder steady while they press the button to capture the distance- I'm not sure what they are upset about with this- the button is not as hard as the reviews state. I must assume they are holding it wrong and cant get any leverage on the button. Just ignore those reviews and buy this guy, it works great no issues!
01/06/2020
Brenda S.
United States
Can't beat this value
I was using few rangefinders for both golfing and hunting, especially for hunting. And I bought more than $200 rangefinder, also tried some rangefinders under $100. It's might be the best rangefinder under $100. I even can't figure out the differences between this one and those $200s. At this price, you really can't beat the value.