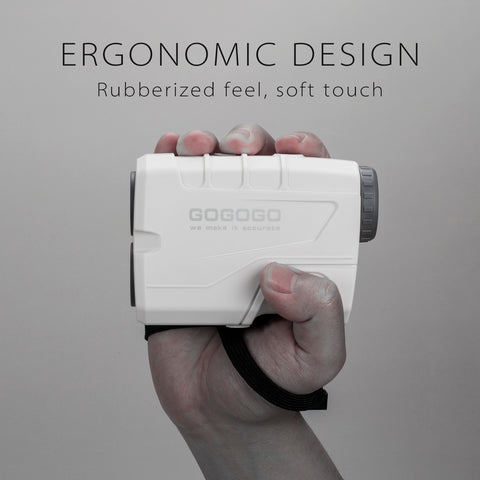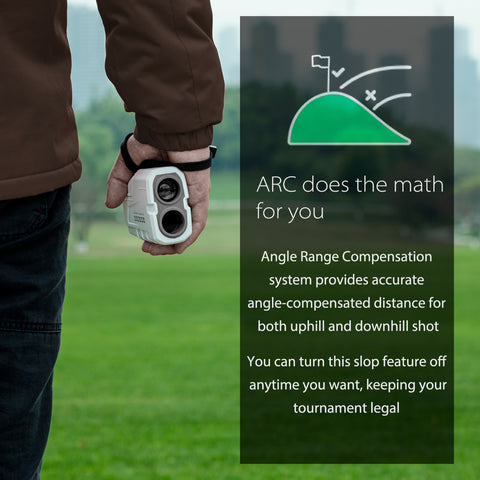 3 Mode to Choose
Distance Measure & Normal Scan Mode
Golf Mode
Speed Mode
Normal Scan Mode is for distance measurements when you hold down the power button, the data on the LCD screen will change as you move. The second Golf mode will show us the angle and slope-adjusted distance, real distance between golfer and flag; Last one is Speed mode, Press "M" Button to change measure mode, AND Long Press  "M" button can switch meter and yard.
Magnification: 6X
Field of view: 7 degree
Objective Lens: 25mm
Eyepiece lens: 16mm
Exit Pupil Diameter: 3.9mm
Laser Type: 905nm
Lens Coatings: Fully Multi-Coated (FMC)
Battery: Built-in Rechargeable Lithium-ion 3.7V 900mAh
Measuring Time: 0.5-1 sec
Distance Measure Accuracy: ±1M
Angle Measure Range: ±45°
Slope Measure Range: ±20°
Pinseeker Range:5Y-150Y/170Y
Measurement Distance Range:5-650Y1200Y
Measurement Speed Range:0-300km/h
Dimensions:106*40*72mm
Net Weight: 184g
Low Battery Indicator: Yes
Flag-lock: Yes
Scan Mode: Yes
Water Resistant: Yes
Note
1. In order to protect the coating of the lens, do not use your fingers to touch the surface.
2. Laser rangefinder has been precisely calibrated by instruments, please don't disassemble by yourself.please send the device back to the dealer for repairing when need.
3. If lens becomes dirty, please wipe gently with cleaning cloth, do not use other objects to wipe it.
4. Avoid collision or heavyweight when carrying or using it, especially keep away from baking or corrosion.
5. Keep the product away from moisture during storage. Please keep it in a dry, cool, and well-ventilated place, and avoid direct sunlight, dust, and temperature shock.
Customer Reviews
11/17/2020
Denny M.
United States
Seems great
Haven't had a chance to take it to the course yet, but played with it out and about and it seems to be great. A lot to it, may take a little bit to figure it all out.
10/15/2020
Robert C.
United States
GS19W White 900y laser golf range finder
Terirfic. As advertised.
11/05/2020
GOGOGO SPORT STORE
Thanks for your support. Have a good time!
09/28/2020
Gordon C.
United States
Golf RangeFinder
It seems a little strange to me. It starts by giving me obviously wrong distances, but after a few clicks, it finally gives me the correct one.
06/26/2020
Josie P.
United States
perfectly worked
The product is very easy to use, accurate distance judgment, fast ranging speed, fast flagpole lock, easy operation, it is recommended
06/25/2020
Gregory C.
United States
Elegant appearance
The rangefinder has been received for a few days. It is simple and convenient to use, and the measurement is accurate. It is also convenient to carry it in the future. The quality details are very good and satisfactory!